How to make Almond Cookies - Easy Homemade Recipe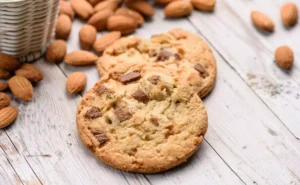 These almond cookies made with wheat flour and almond chunks are a perfect combination of nutty and buttery flavors. They are easy to make and perfect for any occasion, from a quick afternoon snack to a dessert for a special occasion. With the perfect balance of crunchy almond chunks and soft, buttery texture, these cookies are sure to become a new favorite. Let's get started on the recipe!
Type: Dessert
Cooking Time: PT12-15M
Recipe Ingredients:
1 cup all-purpose flour
1/2 cup almond flour
1/4 teaspoon salt
1/2 cup unsalted butter, softened
1/2 cup granulated sugar
1 egg yolk
1 teaspoon vanilla extract
1/2 cup almond chunks
Recipe Instructions:
Step 1:
Preheat the oven to 350°F (175°C) and line a baking sheet with parchment paper.
Step 2:
In a medium bowl, whisk together the all-purpose flour, almond flour, and salt.
Step 3:
In a separate large bowl, cream the softened butter and sugar together until light and fluffy.
Step 4:
Beat in the egg yolk and vanilla extract.
Step 5:
Gradually add the dry ingredients to the wet ingredients, mixing until well combined.
Step 6:
Fold in the almond chunks.
Step 7:
Using a cookie scoop or tablespoon, form the dough into balls and place them on the prepared baking sheet.
Step 8:
Flatten each ball slightly with your hand or the bottom of a glass.
Step 9:
Bake for 12-15 minutes, or until the edges are lightly golden and the cookies are set.
Step 10:
Allow the cookies to cool on the baking sheet for 5 minutes before transferring them to a wire rack to cool completely.