How to make Rice Crispy Bars with Peanut Butter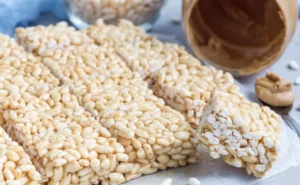 If you're looking for a delicious and easy-to-make snack, these crispy rice bars are the perfect choice. Made with just a few simple ingredients like crispy rice cereal, peanut butter, honey, and brown sugar, these bars are sweet, crunchy, and satisfying. Whether you need a quick snack to take on the go or a fun treat to share with friends and family, these bars are a great option. So let's get started and make some homemade crispy rice bars!
Type: Dessert
Keywords: Puffed rice bars,
Preparation Time: PT10M
Recipe Ingredients:
4 cups crispy rice cereal
1/2 cup creamy peanut butter
1/2 cup honey
1/4 cup packed brown sugar
1/4 cup unsalted butter
1 tsp vanilla extract
1/4 tsp salt
Recipe Instructions:
Step 1:
Line an 8-inch square baking dish with parchment paper and set aside.
Step 2:
In a large mixing bowl, add the crispy rice cereal and set aside.
Step 3:
In a medium saucepan over medium heat, combine the peanut butter, honey, brown sugar, and unsalted butter. Cook, stirring frequently, until the mixture comes to a boil.
Step 4:
Once the mixture is boiling, stir in the vanilla extract and salt, then remove from heat.
Step 5:
Pour the hot peanut butter mixture over the crispy rice cereal and mix until the cereal is fully coated.
Step 6:
Pour the mixture into the lined baking dish and use a spatula to press it down firmly and evenly.
Step 7:
Refrigerate for at least 1 hour, or until the bars are firm and set.
Step 8:
Lift the bars out of the dish using the edges of the parchment paper and cut them into bars or squares.
Step 9:
Serve and enjoy your crispy rice bars!