How to make Lemon Cookies - Easy Homemade Recipe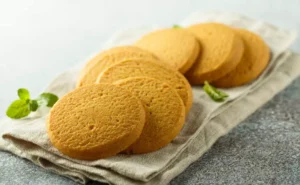 Bring some sunshine to your day with these delicious and tangy Lemon Cookies! Made with fresh lemon zest and juice, these cookies have a bright and zesty flavor that will delight your taste buds. The soft and buttery texture of the cookies combined with the sweet powdered sugar coating make for the perfect balance of sweet and tart. This recipe is easy to follow and produces a batch of cookies that are perfect for sharing with friends and family. So why not brighten up your day and give these Lemon Cookies a try?
Type: Dessert
Cooking Time: PT10-12M
Recipe Ingredients:
2 1/4 cups all-purpose flour
1 tsp baking powder
1/2 tsp salt
1 cup (2 sticks) unsalted butter, softened
1 1/2 cups granulated sugar
2 large eggs
2 tbsp lemon zest (from about 2 lemons)
2 tbsp freshly squeezed lemon juice
1/2 cup powdered sugar (for rolling)
Recipe Instructions:
Step 1:
In a mixing bowl, whisk together flour, baking powder, and salt.
Step 2:
In a separate bowl, beat together butter, granulated sugar, eggs, lemon zest, and lemon juice until light and fluffy.
Step 3:
Gradually add the flour mixture to the butter mixture, mixing until just combined.
Step 4:
Cover the dough and refrigerate for at least 1 hour.
Step 5:
Preheat oven to 350°F (175°C).
Step 6:
Roll the dough into balls about 1 inch in diameter.
Step 7:
Roll each ball of dough in powdered sugar until completely coated.
Step 8:
Place the cookies on a baking sheet and bake for 12-15 minutes.
Step 9:
Let the cookies cool for 5 minutes on the baking sheet, then transfer to a wire rack to cool completely.