How to Make Jello with Condensed Milk - Easy Recipe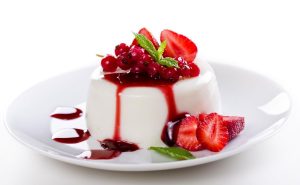 This delicious recipe is a three milk jelly, it is made from whole milk, condensed milk and evaporated milk. But its main ingredient is Unflavored Gelatin. It is a very simple dessert to make to share at parties or gatherings of friends. Next we will present you step by step how is the preparation of a Milk Gelatin, in a homemade, easy and fast way.
Type: Dessert
Keywords: Gelatin with condensed milk, Jello with Condensed Milk, Milk Jelly dessert
Preparation Time: 15M
Recipe Ingredients:
4 tablespoons of unflavored gelatin.
½ Cup of Hot Water.
½ cup of milk.
1 Can of Evaporated Milk.
1 Can of Condensed Milk.
1 tsp Vanilla Essence.
Note: Molds are necessary, but you can also use glasses.
Recipe Instructions:
Step 1:
With the help of a paper towel moistened with oil, grease the inside of the molds that you will use and reserve.
Step 2:
In the half cup of hot water, add the four tablespoons of unflavored gelatin and stir until dissolved.
Step 3:
Apart in a blender, add the milk, the condensed milk, the evaporated milk, the unflavored gelatin dissolved in water and blend until all the ingredients are integrated.
Step 4:
Pour the mixture into the molds and put it in the fridge for 4 hours.
Step 5:
Decorate to your liking and enjoy.
More Easy Dessert Recipes