How To Make Churros without Eggs - Homemade and Easy Recipe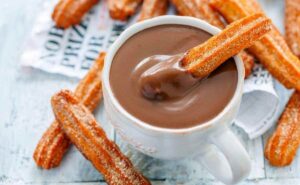 This delicious recipe is originally based on water and flour. Their origin is unknown, although there are theories that they were brought from China to Europe by the Portuguese. Today they have become very popular in North America, Latin America, Europe, Asia and Australia. They are usually eaten coated with sugar, dulce de leche, chocolate, condensed milk or pastry cream. It can also be accompanied with hot chocolate or coffee with milk. Next we will present you a delicious recipe for homemade churros in an easy and fast way.
Type: Dessert
Keywords: easy churros recipe, mexican churros
Preparation Time: 25M
Recipe Ingredients:
1 Cup of Wheat Flour (previously sifted).
1 cup of water
2 Tbsp Sugar
1 pinch of salt
100 gr of Butter
Recipe Instructions:
Step 1:
In a saucepan over medium heat add the water, sugar and a pinch of salt.
Step 2:
Stir and bring to a boil.
Step 3:
Once it has boiled, remove from the heat and add the cup of flour. Immediately with the help of a wooden spoon, stir vigorously until it is integrated.
Step 4:
Add the butter and keep stirring until you get a smooth, lump-free mixture.
Step 5:
With the help of a star-shaped pastry bag, fill it with the mixture and make the churros of the size you want.
Step 6:
Fry them in a pot with hot oil and then drain them on a plate lined with absorbent paper.
Step 7:
Top them with sugar and cinnamon, and accompany them with a rich chocolate.
More Easy Dessert Recipes