Peanut Butter Chocolate Chip Cookies - Easy Recipe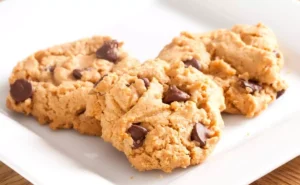 These Peanut Butter Chocolate Chip Cookies are the ultimate treat for peanut butter and chocolate lovers! With a soft and chewy texture and plenty of chocolate chips in every bite, these cookies are sure to be a hit with anyone who tries them. This recipe is simple to make and comes together in just a few steps, making it perfect for baking beginners and experienced bakers alike. So grab your ingredients and let's get started on making some delicious cookies!
Type: Dessert
Keywords: Chocolate Chip Peanut Butter Cookies, Peanut butter cookies with chocolate chips
Cooking Time: PT10-12M
Recipe Ingredients:
1/2 cup unsalted butter, at room temperature
1/2 cup granulated sugar
1/2 cup brown sugar
1/2 cup creamy peanut butter
1 large egg
1 tsp vanilla extract
1 1/4 cups all-purpose flour
1/2 tsp baking powder
1/2 tsp baking soda
1/4 tsp salt
1 cup semisweet chocolate chips
Recipe Instructions:
Step 1:
Preheat your oven to 350°F (180°C). Line a baking sheet with parchment paper or a silicone baking mat.
Step 2:
In a large mixing bowl, cream together the butter, granulated sugar, brown sugar, and peanut butter until light and fluffy.
Step 3:
Add in the egg and vanilla extract, and mix until well combined.
Step 4:
In a separate mixing bowl, whisk together the flour, baking powder, baking soda, and salt.
Step 5:
Gradually add the dry ingredients to the wet ingredients, mixing until just combined.
Step 6:
Fold in the chocolate chips.
Step 7:
Use a cookie scoop or spoon to drop rounded balls of dough onto the prepared baking sheet, spacing them about 2 inches apart.
Step 8:
Bake for 10-12 minutes, or until the edges are golden brown and the centers are set.
Step 9:
Remove from the oven and allow to cool on the baking sheet for 5 minutes before transferring to a wire rack to cool completely.