How to Make Coconut Truffles with Condensed Milk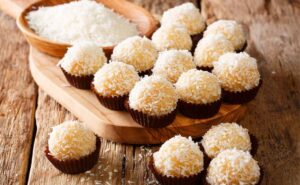 Truffles are a recipe from Belgium. They were called with the name "truffles" because of their appearance very similar to the mushroom that bears the same name. Today they have become very popular and it is a very easy recipe to make. Next we will present you how is the preparation of coconut truffles with condensed milk with only 3 ingredients.
Type: Dessert
Cuisine: Belgian
Preparation Time: 10M
Recipe Ingredients:
1 Can of Condensed Milk.
1 tbsp butter
3 tablespoons grated coconut.
Coconut grated to decorate.
Recipe Instructions:
Step 1:
In a saucepan over medium low heat, melt the butter.
Step 2:
Once melted, add the condensed milk and the coconut grated, stirring for 3 minutes until they are combined and have a creamy consistency.
Step 3:
Pour the mixture onto a plate and let it cool.
Step 4:
Once the mixture has cooled, with the help of a spoon and your hands, make round balls.
Step 5:
Roll the balls in the coconut grated and put them in the fridge for an hour. Then serve and enjoy.
More Easy Dessert Recipes