How to Make Chocolate Mousse with Condensed Milk (without Gelatin)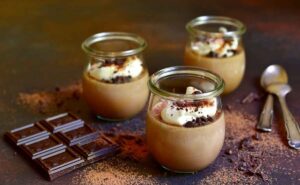 The Mousse recipe is originally from Europe, specifically from France. It was invented in 1755 by a French chef named Menon. This dessert consists of a soft and frothy cream, hence its name "Mousse" which means "foam". Today this recipe has become popular and modernized in many countries that prepare it with a variety of ingredients or fruits. Next we will present you the preparation of a chocolate mousse in an easy and fast way with only 3 ingredients.
Type: Dessert
Cuisine: French
Keywords: homemade mousse, easy mousse recipe, mousse dessert, mousse with whipped cream
Preparation Time: 15M
Recipe Ingredients:
500 ml of Very Cold whipping cream
200 gr of Chocolate
1/2 can of condensed milk
Recipe Instructions:
Step 1:
In a saucepan over low heat, add the condensed milk and chocolate, stirring until the chocolate is completely melted and well integrated.
Step 2:
Then let the mixture cool and take it to the freezer for 10 minutes, since it is important that the mixture is not hot when it is integrated into the whipped cream.
Step 3:
Beat the cold whipping cream until it forms peaks.
Step 4:
Take the mixture out of the freezer and slowly pour into the whipped cream, stirring until just combined.
Step 5:
Pour the mixture into molds and put it in the fridge for 4 hours.
Step 6:
Decorate to your liking and enjoy.
More Easy Dessert Recipes