How to make Oatmeal Carrot Cake - Easy Recipe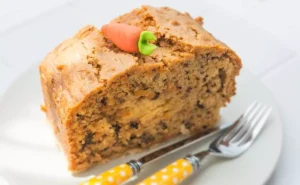 This Carrot and Oatmeal Cake is a delightful combination of the natural sweetness of carrots and the wholesome goodness of oats. The texture is moist and tender, making it a perfect treat for any occasion. Whether enjoyed as is or with your favorite frosting, this cake is sure to please with its simple yet delicious flavors.
Type: Dessert
Cooking Time: PT35-40M
Recipe Ingredients:
2 cups grated carrots
1 cup all-purpose flour
1 cup rolled oats
1 cup granulated sugar
1/2 cup vegetable oil
3 large eggs
1 teaspoon baking powder
1/2 teaspoon baking soda
1/2 teaspoon ground cinnamon
1/4 teaspoon salt
Recipe Instructions:
Step 1:
Preheat your oven to 350°F (175°C). Grease a round cake pan or line it with parchment paper.
Step 2:
In a large mixing bowl, combine the grated carrots, flour, oats, sugar, vegetable oil, eggs, baking powder, baking soda, cinnamon, and salt. Stir well until all the ingredients are thoroughly mixed.
Step 3:
Pour the batter into the prepared cake pan, spreading it evenly.
Step 4:
Bake the cake in the preheated oven for 35-40 minutes, or until a toothpick inserted into the center comes out clean.
Step 5:
Remove the cake from the oven and let it cool in the pan for a few minutes. Then transfer it to a wire rack to cool completely.
Step 6:
Once cooled, you can enjoy the cake as it is or frost it with your favorite icing, such as cream cheese frosting.
Step 7:
Slice and serve this delicious Carrot and Oatmeal Cake for a moist and flavorful dessert!