How to Make Chocolate Pudding with Cornstarch - Easy Recipe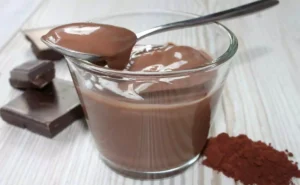 There's nothing quite like a rich and creamy chocolate pudding to satisfy your sweet cravings. Made with simple ingredients that you likely have in your pantry, this chocolate pudding recipe is easy to make and a crowd-pleaser. Perfect for dessert or as a special treat, this pudding is sure to impress. Whether you're a chocolate lover or just looking for a delicious dessert, this recipe is one to try. So let's get started and make some homemade chocolate pudding!
Type: Dessert
Cuisine: European
Keywords: Homemade chocolate pudding
Preparation Time: PT15M
Recipe Ingredients:
1/2 cup granulated sugar
1/4 cup cornstarch
1/4 cup unsweetened cocoa powder
1/4 tsp salt
2 1/4 cups whole milk
2 oz unsweetened chocolate, chopped
2 tbsp unsalted butter
1 tsp vanilla extract
Recipe Instructions:
Step 1:
In a medium saucepan, whisk together the sugar, cornstarch, cocoa powder, and salt until well combined.
Step 2:
Gradually whisk in the milk, stirring constantly to avoid any lumps.
Step 3:
Place the saucepan over medium heat and cook, stirring constantly, until the mixture thickens and starts to boil, about 8-10 minutes.
Step 4:
Reduce the heat to low and stir in the chopped chocolate, butter, and vanilla extract until everything is fully melted and combined.
Step 5:
Remove the pudding from the heat and pour it into a large bowl or individual serving dishes.
Step 6:
Cover with plastic wrap, pressing it directly onto the surface of the pudding to prevent a skin from forming.
Step 7:
Chill in the refrigerator for at least 2 hours, or until the pudding is set and firm.
Step 8:
Serve the chocolate pudding chilled, topped with whipped cream or your favorite toppings, if desired.