How to make Brownie with Ice Cream - Easy Recipe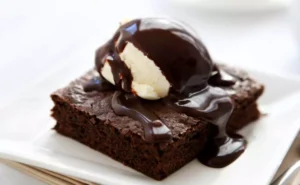 Indulge in the heavenly combination of rich, fudgy brownies paired with creamy, cold vanilla ice cream. This Brownie with Ice Cream recipe is a delightful treat that is quick and easy to make. With just a handful of ingredients and a few simple steps, you can create a dessert that will impress your family and friends. The moist and chocolatey brownies, combined with the smooth and velvety texture of the ice cream, create a sensational flavor combination that will satisfy any sweet tooth. Whether you're looking for a decadent dessert for a special occasion or simply want to treat yourself, this Brownie with Ice Cream recipe is the perfect choice. So, let's dive into the recipe and get ready to savor a delightful dessert experience!
Type: Dessert
Cooking Time: PT20-25M
Recipe Ingredients:
1 cup of all-purpose flour
1/2 cup of unsweetened cocoa powder
1/2 cup of unsalted butter
1 cup of granulated sugar
2 large eggs
1 teaspoon of vanilla extract
1/4 teaspoon of salt
Vanilla ice cream (for serving)
Recipe Instructions:
Step 1:
Preheat your oven to 350°F (175°C) and grease a baking dish.
Step 2:
In a medium-sized bowl, whisk together the flour and cocoa powder. Set aside.
Step 3:
In a microwave-safe bowl, melt the butter. Add the sugar to the melted butter and stir until well combined.
Step 4:
Add the eggs one at a time to the butter and sugar mixture, stirring well after each addition. Stir in the vanilla extract.
Step 5:
Gradually add the flour and cocoa mixture to the wet ingredients, stirring until just combined. Be careful not to overmix.
Step 6:
Pour the brownie batter into the greased baking dish and spread it out evenly.
Step 7:
Bake in the preheated oven for about 20-25 minutes or until a toothpick inserted into the center comes out with a few moist crumbs.
Step 8:
Remove the brownies from the oven and let them cool in the pan for a few minutes. Then transfer them to a wire rack to cool completely.
Step 9:
Once the brownies are completely cooled, cut them into squares and serve with a scoop of vanilla ice cream on top.