How to make Three Milk Cake (Tres Leches) - Easy Recipe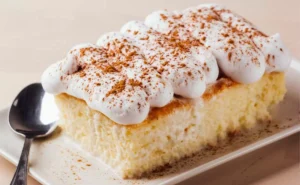 If you're in the mood for a sweet and indulgent dessert, look no further than this classic Tres Leches Cake recipe. This rich and moist cake gets its name from the three types of milk used in the recipe: sweetened condensed milk, evaporated milk, and heavy cream. The result is a decadent, melt-in-your-mouth cake that's perfect for any occasion. Whether you're celebrating a special event or just looking for a delicious dessert to satisfy your sweet tooth, this Tres Leches Cake is sure to impress. So let's get baking and create a dessert that's guaranteed to be a crowd-pleaser!
Type: Dessert
Cuisine: Latin American
Cooking Time: PT25-30M
Recipe Ingredients:
1 1/2 cups all-purpose flour
1 teaspoon baking powder
1/2 cup unsalted butter, softened
1 cup white sugar
5 eggs
1/2 teaspoon vanilla extract
2 cups whole milk
1 (14 ounce) can sweetened condensed milk
1 (12 fluid ounce) can evaporated milk
1 1/2 cups heavy whipping cream
1 cup white sugar
1 teaspoon vanilla extract
Recipe Instructions:
Step 1:
Preheat oven to 350°F (175°C). Grease and flour one 9x13 inch baking pan.
Step 2:
Sift flour and baking powder together and set aside.
Step 3:
Cream butter and sugar together until fluffy. Add eggs and 1/2 teaspoon vanilla extract; beat well.
Step 4:
Add the flour mixture to the butter mixture 2 tablespoons at a time, mixing until well blended. Pour batter into prepared pan.
Step 5:
Bake at 350°F (175°C) for 30 minutes. Pierce cake several times with a fork.
Step 6:
Combine the whole milk, condensed milk, and evaporated milk together. Pour over the top of the cooled cake.
Step 7:
Whip whipping cream, the remaining 1 cup of the sugar, and 1 teaspoon vanilla together until thick. Spread over the top of cake. Be sure and keep cake refrigerated, enjoy!