How to make Coconut Cookies without Flour - Easy Recipe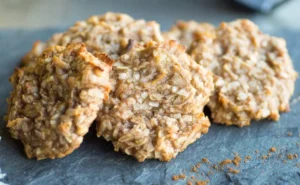 Indulge in the delightful simplicity of our Flourless Coconut Cookies. These delicious treats are made with just a few ingredients and are perfect for those looking for a gluten-free option or wanting to enjoy the rich flavor of coconut. With shredded coconut, sweetened condensed milk, and a touch of vanilla, these cookies are moist, chewy, and packed with tropical goodness. The absence of flour allows the natural sweetness of the coconut to shine through, creating a truly delightful and satisfying treat. Whether you have dietary restrictions or simply love the taste of coconut, these Flourless Coconut Cookies are a delightful option for any occasion. Get ready to savor the irresistible flavors and enjoy a moment of pure coconut bliss with every bite.
Type: Dessert
Cooking Time: PT12-15M
Recipe Ingredients:
2 cups shredded coconut
1/2 cup sweetened condensed milk
1 teaspoon vanilla extract
Pinch of salt
Recipe Instructions:
Step 1:
Preheat your oven to 325°F (160°C). Line a baking sheet with parchment paper.
Step 2:
In a mixing bowl, combine the shredded coconut, sweetened condensed milk, vanilla extract, and salt. Stir well until all the ingredients are thoroughly mixed.
Step 3:
Take spoonfuls of the mixture and drop them onto the prepared baking sheet, spacing them about 2 inches apart. You can use a cookie scoop or roll them into balls by hand.
Step 4:
Gently flatten each cookie with the back of a spoon or your palm to create a cookie shape.
Step 5:
Bake the cookies in the preheated oven for 12-15 minutes, or until the edges are golden brown.
Step 6:
Remove the baking sheet from the oven and let the cookies cool on the sheet for a few minutes. Then transfer them to a wire rack to cool completely.
Step 7:
Once cooled, serve and enjoy these delicious Flourless Coconut Cookies!