Chocolate Truffles with Condensed Milk and Cocoa Powder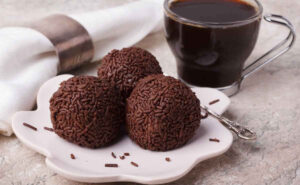 Chocolate truffles is a recipe from Belgium and was so named due to its appearance very similar to the mushroom that bears the same name. Nowadays they have become very popular and it is a very easy and fast recipe. Next we will present you the preparation of some delicious homemade chocolate truffles with only 4 ingredients.
Type: Dessert
Cuisine: Belgian
Preparation Time: 10M
Recipe Ingredients:
1 can of condensed milk
3 Tbsp Cocoa Powder
1 tbsp butter
Chocolate shavings to decorate
Recipe Instructions:
Step 1:
In a saucepan over medium low heat, add the butter and stir until melted.
Step 2:
Add the condensed milk and cocoa powder, stirring for 5 minutes until just combined.
Step 3:
Pour the mixture onto a plate and let it cool.
Step 4:
Once the mixture has cooled, with the help of a spoon and your hands, make round balls.
Step 5:
Roll them with chocolate shavings and put them in the fridge for an hour. Then serve and enjoy.
More Easy Dessert Recipes