Chocolate Walnut Brownies with Cocoa Powder - Easy Recipe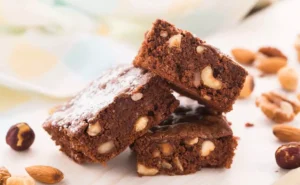 Chocolate walnut brownies are a classic dessert that's loved by many for their rich, chocolatey flavor and crunchy texture. This simplified recipe is a great way to enjoy this classic treat without too much hassle. Made with just a few basic ingredients, these brownies are easy to make and perfect for satisfying your sweet tooth. Whether you enjoy them on their own or with a scoop of vanilla ice cream, these chocolate walnut brownies are sure to become a new favorite in your baking repertoire. So, let's get started and make some delicious and simple brownies that are perfect for any occasion!
Type: Dessert
Cuisine: American
Cooking Time: PT30-35M
Recipe Ingredients:
1/2 cup unsalted butter
1 cup granulated sugar
2 large eggs
1/2 teaspoon vanilla extract
1/3 cup unsweetened cocoa powder
1/2 cup all-purpose flour
1/4 teaspoon salt
1/2 cup chopped walnuts
Recipe Instructions:
Step 1:
Preheat the oven to 350°F (180°C). Grease and flour an 8-inch square baking pan.
Step 2:
In a medium-sized saucepan, melt the butter over medium heat.
Step 3:
Remove the pan from the heat and stir in the sugar until well combined.
Step 4:
Add the eggs, one at a time, stirring well after each addition.
Step 5:
Stir in the vanilla extract.
Step 6:
Add the cocoa powder, flour, and salt to the mixture, stirring until just combined.
Step 7:
Fold in the chopped walnuts.
Step 8:
Pour the batter into the prepared pan, spreading it evenly with a spatula.
Step 9:
Bake for 25-30 minutes or until a toothpick inserted into the center of the brownies comes out clean.
Step 10:
Let the brownies cool in the pan for 10 minutes before transferring them to a wire rack to cool completely.
Step 11:
Cut the brownies into squares and serve.
Step 12:
Enjoy your delicious and simple chocolate walnut brownies!