How to Make Healthy Apple Crumble with Oats - Easy Recipe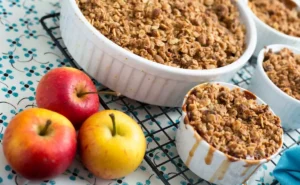 Apple crumble is a classic dessert that's loved for its sweet and tart flavor, tender apples, and crunchy crumb topping. This simplified recipe is a quick and easy way to enjoy this classic dessert without too much fuss. Made with just a handful of ingredients, this apple crumble is perfect for satisfying your sweet tooth any day of the week. Whether you serve it warm with a scoop of ice cream or enjoy it cold for breakfast, this apple crumble is sure to become a new favorite in your baking repertoire. So, let's get started and make a delicious and simple apple crumble!
Type: Dessert
Cuisine: French
Keywords: Healthy apple crumble pie recipe
Cooking Time: PT35-40M
Recipe Ingredients:
4 cups peeled, cored, and sliced apples
1/2 cup all-purpose flour
1/2 cup rolled oats
1/2 cup brown sugar
1/2 teaspoon ground cinnamon
1/4 teaspoon salt
1/2 cup unsalted butter, softened
Recipe Instructions:
Step 1:
Preheat the oven to 375°F (190°C).
Step 2:
In a medium-sized bowl, mix together the flour, rolled oats, brown sugar, cinnamon, and salt.
Step 3:
Add the softened butter to the mixture and use your fingers or a pastry cutter to combine the ingredients until the mixture is crumbly.
Step 4:
Spread the sliced apples evenly in an 8-inch square baking dish.
Step 5:
Sprinkle the crumb mixture evenly over the apples.
Step 6:
Bake the apple crumble for 35-40 minutes or until the topping is golden brown and the apples are tender.
Step 7:
Remove the crumble from the oven and let it cool for a few minutes before serving.
Step 8:
Serve the apple crumble warm with a scoop of vanilla ice cream or a dollop of whipped cream.
Step 9:
Enjoy your delicious and simple apple crumble!