How to Make Strawberry Ice Cream with Condensed Milk without Chunks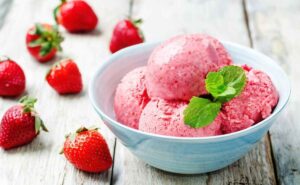 Ice cream is a frozen cream, usually made with dairy, fruit, and sugar. Its origin is very ancient and many empires such as the Babylonian, Persian, Greek, Roman, Arab and Chinese prepared it in their own way with the snow they collected during the winter. But in 1686 the Italian Francesco Procopio dei Coltelli revolutionized this recipe by inventing a machine that homogenized fruits, sugar and ice, with which he obtained a frozen cream, similar to what we know today as ice cream. Next we will present you how is the preparation of a creamy homemade strawberry ice cream with only 3 ingredients and in an easy and fast way.
Type: Dessert
Cuisine: European
Keywords: homemade ice cream, easy ice cream recipe, ice cream without machine, ice cream without eggs, 3-ingredient ice cream
Preparation Time: 15M
Recipe Ingredients:
500 ml of very cold whipping cream.
1 can of condensed milk
250 gr of chopped strawberries
Note: It is necessary that the whipping cream is very cold to be able to mount.
Recipe Instructions:
Step 1:
In a bowl, place the whipping cream and beat it until it forms peaks.
Step 2:
Add the condensed milk and with the help of a silicone spatula stir gently until they are integrated.
Step 3:
Blend the strawberries until they are liquid and add them to the mixture, stirring gently until just combined.
Step 4:
Pour the mixture into a mold and put it in the freezer for 6 hours.
Step 5:
Serve and decorate to your.
More Easy Dessert Recipes