Alfajores | Cornstarch Cookies with Dulce de Leche Recipe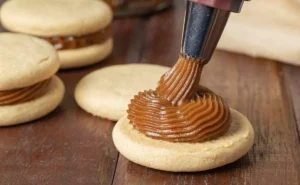 Alfajores are a popular South American treat, consisting of two soft, crumbly cookies sandwiched together with a creamy filling. One of the most classic and beloved fillings is dulce de leche, a sweet and creamy caramel made from slowly cooking sweetened condensed milk. In this recipe, we'll show you how to make delicious alfajores filled with rich and decadent dulce de leche. The cookies are made with a simple combination of flour, cornstarch, butter, egg yolks, and vanilla extract, and are easy to make even if you're a beginner baker. The end result is a delightful and indulgent treat that's perfect for sharing with friends and family.
Type: Dessert
Cuisine: Latin American
Cooking Time: PT10-12M
Recipe Ingredients:
1 cup all-purpose flour
1/2 cup cornstarch
1/2 cup powdered sugar (also called confectioners' sugar or icing sugar)
1/2 cup butter
2 egg yolks
1 teaspoon vanilla extract
Dulce de leche for filling
Recipe Instructions:
Step 1:
Preheat the oven to 350°F (180°C).
Step 2:
In a bowl, mix together the flour, cornstarch, and powdered sugar.
Step 3:
Add the butter to the dry ingredients and mix until a smooth dough forms.
Step 4:
Add the egg yolks and vanilla extract to the dough and mix until well combined.
Step 5:
Take small portions of dough, roll them into balls, and flatten them slightly to form cookies.
Step 6:
Place the cookies on a baking sheet lined with parchment paper.
Step 7:
Bake for 12-15 minutes or until golden brown.
Step 8:
Allow the cookies to cool completely.
Step 9:
Spread a spoonful of dulce de leche onto the bottom of one cookie and sandwich it with another cookie.
Step 10:
Repeat with the remaining cookies and dulce de leche.
Step 11:
Serve and enjoy your delicious alfajores de dulce de leche!