Carrot Cake with Cream Cheese Frosting - Easy Recipe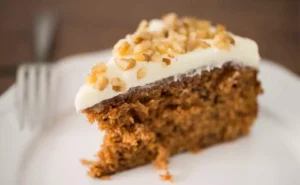 Carrot cake with cream cheese frosting is a classic dessert that's beloved for its delicious blend of sweet, spicy, and creamy flavors. This simplified recipe is an easy way to enjoy this beloved dessert without too much fuss. Made with grated carrots, warm spices, and a creamy, tangy frosting, this cake is perfect for any occasion, from casual gatherings to formal celebrations. Whether you're a seasoned baker or just starting out, this recipe is a great way to indulge your sweet tooth and impress your friends and family with a homemade treat.
Type: Dessert
Preparation Time: PT35-40M
Recipe Ingredients:
2 cups all-purpose flour
2 teaspoons baking powder
1 1/2 teaspoons baking soda
1 teaspoon ground cinnamon
1/2 teaspoon salt
1 1/2 cups granulated sugar
1 cup vegetable oil
4 large eggs
2 cups grated carrots
8 oz. cream cheese, softened
1/4 cup unsalted butter, softened
2 cups powdered sugar
1 teaspoon vanilla extract
Recipe Instructions:
Step 1:
Preheat the oven to 350°F (180°C). Grease and flour a 9-inch cake pan.
Step 2:
In a large bowl, whisk together the flour, baking powder, baking soda, cinnamon, and salt.
Step 3:
In another bowl, whisk together the sugar, oil, and eggs until well combined.
Step 4:
Gradually stir in the dry ingredients until just combined.
Step 5:
Fold in the grated carrots.
Step 6:
Pour the batter into the prepared cake pan and smooth the surface with a spatula.
Step 7:
Bake for 30-35 minutes or until a toothpick inserted into the center of the cake comes out clean.
Step 8:
Let the cake cool in the pan for 10 minutes before transferring it to a wire rack to cool completely.
Step 9:
To make the cream cheese frosting, beat the cream cheese and butter together in a large bowl until smooth and creamy.
Step 10:
Gradually add the powdered sugar and vanilla extract, beating until the frosting is light and fluffy.
Step 11:
Once the cake is cool, spread the cream cheese frosting over the top of the cake.
Step 12:
Serve and enjoy your delicious and easy carrot cake with creamy cream cheese frosting!