How to Make Blackberry Mousse with Condensed Milk and Gelatin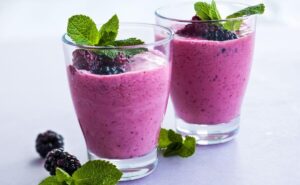 Mousse is a traditional dessert of French cuisine and its name translated means "foam". This recipe was born in 1755 by a French chef named Menon, and consists of a soft and frothy cream. Today in many countries of the world it has become a very popular recipe, since it is very easy to prepare, using any type of fruit. For this reason, below we will present you the preparation of a delicious homemade Blackberry Mousse easily and quickly.
Type: Dessert
Cuisine: French
Keywords: homemade mousse, easy mousse recipe, mousse dessert, mousse with whipped cream
Preparation Time: 15M
Recipe Ingredients:
250 gr of chopped blackberry.
500 ml of cold whipping cream
1 Can of Condensed Milk.
½ tablespoon of unflavored gelatin.
50 ml of hot water.
Recipe Instructions:
Step 1:
In a blender, place the chopped blackberry, the condensed milk and blend until they become a smooth mixture.
Step 2:
Apart in a bowl, dissolve the unflavored gelatin in hot water.
Step 3:
Then add the unflavored gelatin already dissolved to the mixture of condensed milk with the blackberry and stir a little until they are integrated (let it cool a little if it is hot).
Step 4:
In a separate bowl, beat the cold cream until it forms peaks.
Step 5:
Add the previous mixture to the whipped cream, stir until well incorporated.
Step 6:
Pour into molds and put in the fridge for 4 hours.
Step 7:
Decorate to your liking and enjoy.
More Easy Dessert Recipes