No Bake Lemon Cheesecake with Condensed Milk and Philadelphia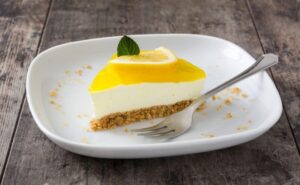 The Cheesecake is a recipe originally from Ancient Greece, although in the past it was not prepared as it is done today. Because cream cheese was invented in 1872 by the American dairyman William Lawrence who accidentally tried to develop a French cheese called Neufchatel. Some time later, in 1880 William Lawrence distributed cream cheese in aluminum foil wrappers under the name of his company called Empire, but then the Kratf Foods company began to market it under the name of Philadelphia. Next we will present to you how the preparation of the Lemon Cheesecake without an oven is easy and fast.
Type: Dessert
Cuisine: European
Keywords: homemade cheesecake, cheesecake without gelatin, easy cheesecake recipe
Preparation Time: 30M
Recipe Ingredients:
1 Cup Graham cracker pie crust.
130 gr of Melted butter.
450 gr of Philadelphia Cream Cheese
200 gr of Whipping cream.
1 Can of Condensed Milk.
80 ml Lemon Juice.
1 tsp of Vanilla.
The zest of a lemon.
Note: It is necessary that the whipping cream is very cold to be able to beat.
Recipe Instructions:
Step 1:
In a bowl add graham cracker pie crust and the melted butter and stir until they are integrated.
Step 2:
In a springform pan, add the previous mixture and press to the bottom, this will be the base of the cheesecake.
Styep 3:
Put it in the freezer for 10 minutes, while you continue preparing the rest of the cheesecake.
Step 4:
Apart in a bowl, add the cream cheese, condensed milk and beat for 3 minutes until creamy.
Step 5:
Then add the lemon juice, lemon zest, and vanilla extract and continue beating until well blended and creamy.
Step 6:
In another bowl, add the heavy cream and beat until peaks form.
Step 7:
Add the whipped cream to the previous mixture and with the help of a silicone spatula stir until everything is well integrated and creamy.
Step 8:
Take the mold out of the freezer and pour the mixture into the mold. With the help of the silicone spatula, smooth the upper part so that it is perfect.
Step 9:
Refrigerate for 4-6 hours, then serve. Decorating to your liking.
Optional:
Optionally you can prepare the yellow top layer, placing in a pot over low heat: 50 ml of water, 50 g of sugar, 100 ml of lemon juice, 4 g of unflavored gelatin, 1 drop of yellow food coloring and stir for 3 minutes until everything is combined.
Optional:
Once ready, turn off the heat, let it cool so you can add it as a top topping, refrigerate for 1 more hour, and you're done.
More Easy Dessert Recipes