How to Make Caramel Flan with Condensed Milk - Easy Recipe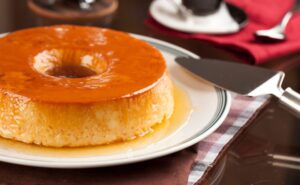 Flan is a dessert that is made with eggs, milk and sugar. It has its origin in Portugal, but ancient civilizations such as the Phoenicians, Greeks and Romans had a similar variant called Tyropatin. On the other hand, not only in ancient times did they prepare this recipe with a different name, now there are countries that call it differently, in Croatia "Rožata", in Venezuela "Quesillo", in Peru "Crema volteada" and " Leche Asada ", some prepare it in the oven and others in a bain marie, but it is still a delicious recipe. Next we will show you how to prepare a Caramel Flan without an oven in an easy and fast way.
Type: Dessert
Cuisine: Portuguese
Preparation Time: 15M
Cooking Time: 40M
Recipe Ingredients:
200 gr of Sugar.
5 Eggs.
1 Can of Condensed Milk.
500 ml of milk.
Note: A flan mold is required.
Recipe Instructions:
Step 1:
In a pot over low heat add the sugar and 5 tablespoons of water, cook for a few minutes until the sugar has a liquid consistency and a caramel color.
Step 2:
Once the caramel is ready, we remove it from the heat and carefully pour it into a flan mold and reserve.
Step 3:
Apart in a blender, add the milk, the eggs and the condensed milk. We blend at high speed until all the ingredients are integrated.
Step 4:
Once blended, we pour it into the flan mold that we had reserved with the caramel and cover it well.
Step 5:
We cook it in a bain-marie for 40 minutes.
Step 6:
Once cooked, we remove it from the mold and let it rest to be able to enjoy.
More Easy Dessert Recipes