How to make Homemade Banana Muffins - Easy Recipe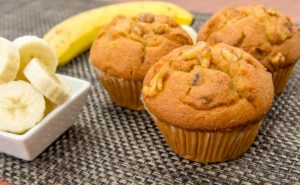 These moist and fluffy Banana Muffins are a perfect way to use up ripe bananas and satisfy your sweet cravings. Whether enjoyed for breakfast, as a snack, or as a lunchbox treat, these muffins are sure to be a hit. With minimal ingredients and easy preparation, you can whip up a batch in no time. Enjoy the comforting flavors of banana in every bite and savor the homemade goodness of these delightful muffins.
Type: Dessert
Cooking Time: PT18-20M
Recipe Ingredients:
1 1/2 cups all-purpose flour
1 teaspoon baking powder
1/2 teaspoon baking soda
1/4 teaspoon salt
3 ripe bananas, mashed
1/2 cup granulated sugar
1/4 cup vegetable oil
1/4 cup milk
1 large egg
1 teaspoon vanilla extract
Recipe Instructions:
Step 1:
Preheat your oven to 375°F (190°C). Line a muffin tin with paper liners.
Step 2:
In a mixing bowl, whisk together the flour, baking powder, baking soda, and salt.
Step 3:
In a separate bowl, combine the mashed bananas, granulated sugar, vegetable oil, milk, egg, and vanilla extract. Mix well until all the ingredients are thoroughly combined.
Step 4:
Gradually add the dry ingredients to the wet ingredients, stirring until just combined. Be careful not to overmix; a few lumps are fine.
Step 5:
Divide the batter evenly among the muffin cups, filling each about 2/3 full.
Step 6:
Bake the muffins in the preheated oven for 18-20 minutes, or until a toothpick inserted into the center comes out clean.
Step 7:
Remove the muffins from the oven and let them cool in the pan for a few minutes. Then transfer them to a wire rack to cool completely.
Step 8:
Once cooled, serve and enjoy these delicious Banana Muffins!