How to Make Oatmeal Cookies with Quick Oats - Easy Recipe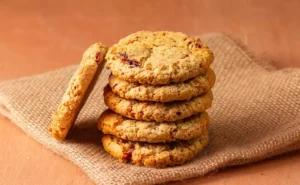 Oatmeal cookies are a classic treat that are loved by many for their comforting and wholesome taste. This simple recipe for oatmeal cookies is a great way to enjoy the delicious flavor and texture of oats in a sweet and satisfying snack. Made with just a few basic ingredients, these cookies are easy to make and perfect for anyone looking for a quick and tasty treat. Whether you enjoy them on their own or with a glass of milk, these oatmeal cookies are sure to become a new favorite in your baking repertoire.
Type: Dessert
Cuisine: European
Keywords: Oatmeal cookies soft
Cooking Time: PT12-15M
Recipe Ingredients:
1 cup quick oats
3/4 cup all-purpose flour
1/2 cup brown sugar
1/2 teaspoon baking soda
1/4 teaspoon salt
1/2 cup butter, softened
1 egg
1 teaspoon vanilla extract
Recipe Instructions:
Step 1:
Preheat the oven to 350°F (180°C).
Step 2:
In a large bowl, mix together the oats, flour, brown sugar, baking soda, and salt.
Step 3:
Add the softened butter, egg, and vanilla extract to the bowl, and mix until a dough forms.
Step 4:
Roll the dough into small balls, about 1 tablespoon each.
Step 5:
Place the balls on a baking sheet lined with parchment paper, spacing them about 2 inches apart.
Step 6:
Flatten the balls slightly with your fingers or a fork.
Step 7:
Bake for 12-15 minutes or until golden brown.
Step 8:
Remove the cookies from the oven and let them cool on the baking sheet for a few minutes.
Step 9:
Transfer the cookies to a wire rack to cool completely.
Step 10:
Serve and enjoy your delicious and simple oatmeal cookies!