Blueberry Mousse with Condensed Milk and Gelatin - Easy Recipe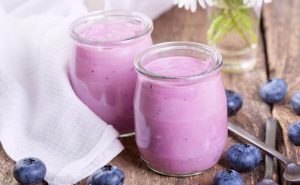 The recipe for this traditional dessert called "Mousse" is originally from France and its translation means "foam". This delicious recipe was born in 1755 by the French chef named Menon, which consists of a soft and frothy cream. Nowadays it has become popular in many countries of the world and it is a very easy recipe to prepare with any type of fruit. For this reason, below we will present you the preparation of a homemade Mango Mousse easily and quickly.
Type: Dessert
Cuisine: European
Keywords: Blueberry Foam, Mousse with Condensed Milk
Preparation Time: 15M
Recipe Ingredients:
250 gr of Blueberries.
500 ml of cold whipping cream.
1 Can of Condensed Milk.
½ tablespoon of unflavored gelatin.
50 ml of hot water.
Recipe Instructions:
Step 1:
In a blender, place the blueberries, condensed milk and blend until smooth.
Step 2:
In a separate bowl, dissolve the unflavored gelatin in hot water.
Step 3:
Add the dissolved unflavored gelatin to the blended condensed milk mixture with the blueberries and stir until combined (allow to cool slightly if hot).
Step 4:
In a separate bowl, beat the cold cream until peaks form.
Step 5:
Add the above mixture to the whipped cream and stir until well incorporated.
Step 6:
Pour into molds and take it to the fridge for 4 hours.
Step 7:
Decorate to your liking and enjoy.
More Easy Dessert Recipes