How to make Breaded Chicken Breast - Easy Recipe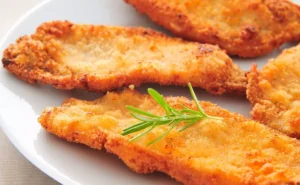 Breaded chicken is a classic dish that is loved by both kids and adults alike. It's a simple and delicious way to prepare chicken breasts that results in a crispy and flavorful exterior with a juicy and tender interior. This recipe is easy to make and can be customized with different spices and herbs to suit your taste preferences. Whether you're looking for a quick weeknight dinner or a crowd-pleasing party appetizer, breaded chicken is a great choice. So, let's roll up our sleeves and learn how to make this tasty dish step by step!
Type: Main course
Keywords: Breaded chicken breast fillets
Preparation Time: PT20M
Recipe Ingredients:
4 boneless, skinless chicken breasts
Salt and black pepper, to taste
1 cup all-purpose flour
2 eggs, beaten
2 cups breadcrumbs
1/2 teaspoon garlic powder
1/2 teaspoon onion powder
1/4 teaspoon paprika
Cooking oil for frying
Recipe Instructions:
Step 1:
Season the chicken breasts with salt and black pepper to taste.
Step 2:
Place the flour in a shallow dish.
Step 3:
Beat the eggs in a separate shallow dish.
Step 4:
In another shallow dish, mix the breadcrumbs with the garlic powder, onion powder, and paprika.
Step 5:
Coat each chicken breast in the flour, shaking off any excess.
Step 6:
Dip each chicken breast in the beaten eggs, making sure to coat it evenly.
Step 7:
Press each chicken breast into the breadcrumb mixture, making sure to coat it evenly.
Step 8:
Heat the cooking oil in a large skillet over medium-high heat.
Step 9:
Add the breaded chicken breasts to the skillet and cook for 5-7 minutes on each side, or until golden brown and cooked through.
Step 10:
Remove the chicken from the skillet and place on a paper towel-lined plate to drain off any excess oil.
Step 11:
Serve the breaded chicken hot with your favorite dipping sauce.