How to make Chicken Marsala with Mushroom - Easy Recipe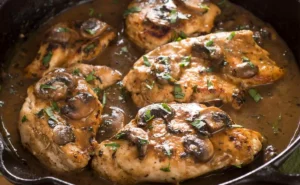 Chicken Marsala is a classic Italian-American dish that features tender chicken breasts cooked in a rich and flavorful sauce made with Marsala wine and mushrooms. It's a perfect dish for a cozy dinner party or a romantic night in, and it's surprisingly easy to make at home! In this simplified recipe, we'll show you how to make Chicken Marsala in just a few simple steps, using basic ingredients that you probably already have in your pantry. So grab your skillet and let's get cooking!
Type: Main course
Cuisine: Italian
Keywords: Chicken Marsala with Mushroom Sauce
Recipe Ingredients:
4 boneless, skinless chicken breasts
Salt and pepper to taste
1/2 cup all-purpose flour
2 tbsp olive oil
4 tbsp unsalted butter
8 oz sliced mushrooms
1/2 cup Marsala wine
1/2 cup chicken broth
1/4 cup chopped fresh parsley (optional)
Recipe Instructions:
Step 1:
Season the chicken with salt and pepper, then coat with flour.
Step 2:
Heat the olive oil and 2 tbsp of the butter in a large skillet over medium-high heat.
Step 3:
Add the chicken to the skillet and cook until browned on both sides and cooked through, about 5-7 minutes per side. Remove from the skillet and set aside.
Step 4:
Add the remaining 2 tbsp of butter to the skillet, then add the mushrooms and cook until softened.
Step 5:
Pour in the Marsala wine and chicken broth, and bring to a simmer, scraping the bottom of the skillet to release any browned bits.
Step 6:
Return the chicken to the skillet and cook for a few minutes to heat through and coat in the sauce.
Step 7:
Serve hot with chopped fresh parsley, if desired.