How to Make Chicken in Homemade Tomato Sauce - Easy Recipe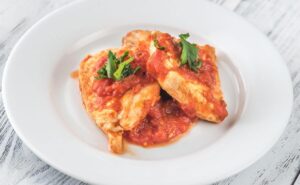 The recipe for chicken in tomato sauce is very easy, it is made with tomato puree, onion and garlic. This recipe is ideal to accompany pasta or rice. Also instead of chicken you can prepare this sauce with meat, liver or tongue. Next we will present you how it is to prepare a chicken in homemade tomato sauce in an easy and fast way.
Type: Main Dish
Cuisine: Italian
Keywords: Chicken in red sauce, Tomato puree
Preparation Time: 30M
Recipe Ingredients:
500 gr of crushed tomato.
500 gr of Chicken Breast seasoned with pepper and Salt.
1 finely chopped onion.
3 garlic cloves crushed.
1 Tbsp of Sugar. Vegetable oil.
Salt and pepper to taste.
Recipe Instructions:
Step 1:
In a skillet over high heat, add a drizzle of oil and cook the breasts for 5 minutes on each side and turn off the heat.
Step 2:
Apart in a pot over high heat, add a splash of oil and sauté the onion and garlic until golden brown.
Step 3:
Then in the same pot over medium heat, add the crushed tomato, sugar, salt and pepper to your liking, stirring constantly for 15 minutes until cooked through.
Step 4:
Add the chicken breasts to the pot with the tomato sauce and cook for 5 more minutes.
Step 5:
Serve and decorate to your liking.
More Easy Chicken Recipes