How to Make Chicken with Mushroom Sauce - Easy Recipe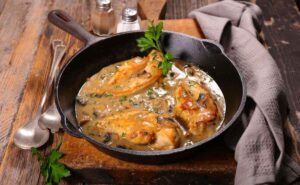 Mushroom sauce is a recipe that has become popular today in modern cuisine, it can be served with chicken, meat, fish, pasta or even hot creams. Its main ingredient, the champignon, is a mushroom native to Europe and North America. They are a very rich source of nutrients and vitamins, which makes it a food with many health benefits. Next we will present you the preparation of delicious chicken breasts with home-style mushroom sauce, a very easy and quick recipe.
Type: Main Dish
Cuisine: European and North American.
Preparation Time: 30M
Recipe Ingredients:
2 Chicken Breasts cut into Fillet.
300 g of sliced ​​mushrooms.
125 ml of Chicken Broth.
250 ml of Milk Cream.
1 onion finely chopped.
1 tablespoon butter.
2 tablespoons of oil.
50 ml of water.
½ Tbsp Cornstarch.
Pepper.
Salt
Recipe Instructions:
Step 1:
Season the chicken with salt and pepper to taste.
Step 2:
In a deep skillet over high heat, add the oil along with the butter until it melts.
Step 3:
Place the chicken breasts and cook them on both sides until they are sealed.
Step 4:
Remove the chicken from the skillet and place it on a clean plate.
Step 5:
Lower the power to a simmer and without changing the oil, sauté the onion and mushrooms for 5 minutes.
Step 6:
Add the chicken broth, heavy cream and stir until well incorporated.
Step 7:
Add more salt and pepper to taste if desired.
More Easy Chicken Recipes