How to make Chicken in Beer Marinade - Easy Recipe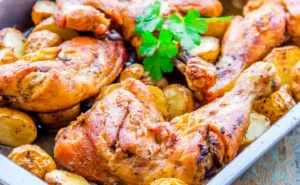 Chicken in beer is a hearty and flavorful dish that is easy to make and perfect for a cozy dinner at home. The combination of beer and herbs creates a delicious sauce that complements the tender and juicy chicken. This recipe is a great way to switch up your usual chicken dinners and impress your family or guests with something new and tasty. With just a few simple ingredients and some basic cooking techniques, you can create a delicious and satisfying meal that everyone will love. So, let's get started!
Type: Main course
Keywords: Chicken in beer batter
Preparation Time: PT30-35M
Recipe Ingredients:
4 chicken legs
Salt and black pepper
1 tablespoon olive oil
1 onion, chopped
2 garlic cloves, minced
2 cups beer
1 tablespoon honey
1 teaspoon dried thyme
1 teaspoon dried rosemary
1 bay leaf
Chopped fresh parsley, for garnish
Recipe Instructions:
Step 1:
Season chicken legs with salt and black pepper.
Step 2:
Heat olive oil in a skillet over medium-high heat. Brown chicken legs on all sides, about 5-7 minutes. Remove chicken and set aside.
Step 3:
Add chopped onion and minced garlic to the same skillet. Cook until onion is translucent, about 3-4 minutes.
Step 4:
Add beer to skillet and stir to combine.
Step 5:
Stir in honey, thyme, rosemary, and bay leaf. Bring to a simmer.
Step 6:
Return chicken legs to skillet and spoon some of the beer mixture over them.
Step 7:
Cover skillet with a lid and reduce heat to low. Let chicken simmer for 30-35 minutes, or until cooked through.
Step 8:
Serve chicken legs with beer sauce spooned over them and garnished with chopped fresh parsley.