How to make Chicken with Garlic - Easy Recipe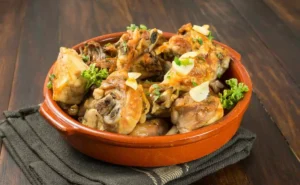 Chicken with garlic, or "Pollo al Ajillo" in Spanish, is a classic Spanish dish that is simple, flavorful, and perfect for any occasion. The combination of juicy chicken breasts and fragrant garlic creates a mouthwatering dish that is sure to impress your family and friends. This recipe is easy to make with just a few simple ingredients and basic cooking techniques, making it a great choice for a quick and delicious dinner. So, let's dive in and learn how to make this tasty and satisfying dish step by step!
Type: Main course
Cuisine: Spanish
Keywords: Garlic chicken
Preparation Time: PT20-30M
Recipe Ingredients:
4 boneless, skinless chicken breasts
Salt and black pepper, to taste
3 tablespoons olive oil
6 cloves garlic, minced
1/2 cup chicken broth
1/2 lemon, juiced
Chopped fresh parsley, for garnish
Recipe Instructions:
Step 1:
Season chicken breasts with salt and black pepper.
Step 2:
Heat olive oil in a large skillet over medium-high heat.
Step 3:
Add minced garlic to the skillet and cook until fragrant, about 1-2 minutes.
Step 4:
Add chicken breasts to the skillet and cook for 4-5 minutes per side, or until browned and cooked through.
Step 5:
Remove chicken from skillet and set aside.
Step 6:
Add chicken broth and lemon juice to the skillet and stir to combine.
Step 7:
Cook the sauce over medium-high heat for 2-3 minutes, or until slightly thickened.
Step 8:
Return chicken to the skillet and spoon the sauce over it.
Step 9:
Garnish with chopped fresh parsley and serve hot.