How to Make Chinese Lemon Chicken - Easy and Quick Recipe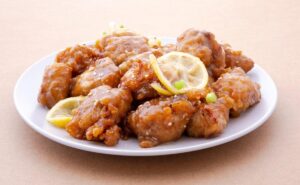 The lemon chicken recipe that we commonly know is of Chinese-American origin and comes from the version of the Asian dish General Tso Chicken. This recipe emerged in Chinese fast food restaurants in the United States. It consists of chunks of breaded and fried chicken, covered in a sweet and sour lemon-flavored sauce. Next we will present to you how to prepare homemade lemon chicken, easily and quickly.
Type: Main Dish
Cuisine: Asian
Keywords: Chinese Chicken, Asian Recipe, Sweet and Sour Chicken
Preparation Time: 40M
Recipe Ingredients:
1 Chicken Breast cut into pieces.
1 Cup of Lemon Juice.
3 Tbsp of Sugar.
2 Tbsp Soy Sauce.
2 Garlic clove crushed.
1 Tbsp Cornstarch.
Oil for frying.
1 cup wheat flour.
1 Sliced ​​Lemon to decorate.
Sesame to decorate.
Recipe Instructions:
Step 1:
In a bowl, place wheat flour and cover the chicken pieces one by one with flour and place them separately on a clean plate.
Step 2:
Then in a deep frying pan with hot oil, fry the chicken pieces until they are golden brown and then take them aside to drain on a plate with absorbent paper.
Step 3:
In another pan over medium heat, add the lemon juice, sugar, soy sauce, garlic, and cornstarch and stir, letting them cook until thickened.
Step 4:
Once the sauce thickens, add the fried chicken, the lemon slices and stir until it is integrated, let it cook for 5 more minutes over low heat.
Step 5:
Serve and garnish with sesame.
More Easy Chicken Recipes