How to make Chicken Nuggets - Easy Recipe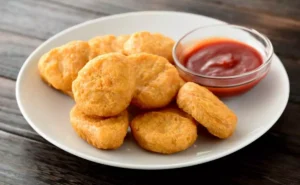 Chicken Nuggets are a classic fast food staple that are loved by people of all ages. These delicious little bites of crispy, juicy chicken are perfect for a quick and easy meal or as a fun party snack. While you can certainly buy frozen chicken nuggets from the grocery store, making your own at home is easy and much healthier. This simplified recipe for Chicken Nuggets uses just a few basic ingredients and can be made without an oven, so you can enjoy hot and crispy nuggets any time you like. So let's get frying!
Type: Main course
Keywords: Chicken nuggets without bread crumbs
Preparation Time: PT20M
Recipe Ingredients:
1 lb boneless, skinless chicken breast, cut into bite-sized pieces
1 cup all-purpose flour
1 tsp salt
1/2 tsp black pepper
1 tsp garlic powder
1 tsp onion powder
2 eggs, beaten
2 cups bread crumbs
Vegetable oil, for frying
Recipe Instructions:
Step 1:
In a shallow dish, mix together the flour, salt, black pepper, garlic powder, and onion powder.
Step 2:
In another shallow dish, beat the eggs.
Step 3:
In a third shallow dish, place the bread crumbs.
Step 4:
Dip each piece of chicken in the flour mixture, shaking off any excess.
Step 5:
Dip the chicken into the beaten eggs, then into the bread crumbs, making sure to coat the chicken well.
Step 6:
Heat enough vegetable oil in a large pot or deep fryer to cover the chicken pieces (about 1-2 inches) to 350°F (175°C).
Step 7:
Fry the chicken nuggets in the hot oil for 3-4 minutes per side, or until golden brown and cooked through.
Step 8:
Remove the chicken nuggets from the oil with a slotted spoon and place on a wire rack or paper towels to drain off any excess oil.
Step 9:
Serve hot with your favorite dipping sauce and enjoy your delicious Chicken Nuggets!