How to make Coca Cola Chicken - Easy Recipe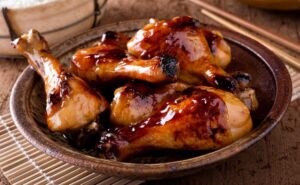 Looking for a delicious and easy-to-make chicken recipe that's sure to impress? Look no further than Coca-Cola Chicken! With just a handful of ingredients and a few simple steps, you can create a flavorful and tender chicken dish that's perfect for any occasion. The secret ingredient? Coca-Cola! This classic soft drink adds a sweet and tangy flavor to the dish, making it a crowd-pleaser for all ages. So grab your apron and get ready to cook up a storm with this tasty Coca-Cola Chicken recipe!
Type: Main course
Keywords: Chicken with coke cola
Preparation Time: PT25M
Recipe Ingredients:
4 chicken thighs
Salt and pepper, to taste
1 tablespoon vegetable oil
1 onion, chopped
2 cloves garlic, minced
1 cup Coca Cola
1/4 cup soy sauce
1/4 cup ketchup
Recipe Instructions:
Step 1:
Season the chicken thighs with salt and pepper.
Step 2:
Heat the vegetable oil in a large skillet over medium-high heat.
Step 3:
Add the chicken thighs to the skillet and cook for 5-7 minutes per side, or until browned.
Step 4:
Remove the chicken thighs from the skillet and set them aside.
Step 5:
Add the chopped onion and minced garlic to the skillet and cook until softened, about 2-3 minutes.
Step 6:
Add the Coca Cola, soy sauce, and ketchup to the skillet and stir to combine.
Step 7:
Bring the mixture to a boil, then reduce the heat to low and let simmer for 5 minutes.
Step 8:
Return the chicken thighs to the skillet and spoon the sauce over them.
Step 9:
Cover the skillet and simmer for an additional 10-15 minutes, or until the chicken is cooked through and tender.
Step 10:
Serve hot with rice or your favorite side dish.