How to make Chicken Stew with Vegetables - Easy Recipe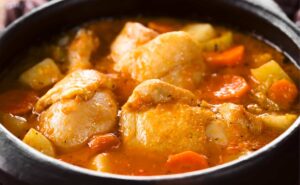 Looking for a hearty and comforting meal that's easy to make? Look no further than this Chicken Stew with Vegetables recipe! This one-pot dish is packed with tender chicken, potatoes, carrots, and aromatic thyme, all simmered together in a savory chicken broth. It's a perfect meal for those cold, wintry nights or any time you're in the mood for a warm and satisfying dinner. So grab your ingredients and get ready to make this delicious and simple Chicken Stew with Vegetables!
Type: Main course
Preparation Time: PT45-50M
Recipe Ingredients:
1 lb boneless, skinless chicken breasts, cut into bite-sized pieces
1 onion, chopped
2 cloves garlic, minced
2 cups chicken broth
2 large potatoes, peeled and cut into chunks
2 large carrots, peeled and cut into chunks
1 tsp dried thyme
Salt and pepper to taste
Recipe Instructions:
Step 1:
In a large pot, sauté the chicken over medium-high heat until browned on all sides.
Step 2:
Add the onion and garlic to the pot and cook until softened.
Step 3:
Pour in the chicken broth, then add the potatoes, carrots, thyme, salt, and pepper.
Step 4:
Cover the pot and simmer on low heat for 30-40 minutes or until the vegetables are tender and the chicken is cooked through.
Step 5: