How to make Broasted Chicken - Easy Recipe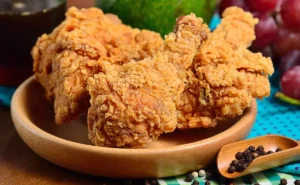 Broasted Chicken is a delicious and crispy fried chicken dish that's popular in many parts of the world. It's made using a special cooking technique that combines pressure frying with deep frying to create a perfectly cooked chicken with a crispy outer coating. While Broasting is typically done in a specialized Broaster machine, it's also possible to make this delicious chicken at home using just a few basic ingredients and a deep fryer or large pot. In this simplified recipe, we'll show you how to make Broasted Chicken that's juicy, flavorful, and crispy, without the need for a Broaster machine or an oven. So let's get frying!
Type: Main Course
Keywords: Fried chicken
Preparation Time: PT20M
Recipe Ingredients:
4 chicken legs and thighs
2 cups vegetable oil
1/2 cup all-purpose flour
1 tsp salt
1 tsp garlic powder
1 tsp onion powder
1 tsp paprika
1/2 tsp black pepper
Recipe Instructions:
Step 1:
Heat the vegetable oil in a deep fryer or large pot to 350°F (175°C).
Step 2:
In a shallow dish, mix together the flour, salt, garlic powder, onion powder, paprika, and black pepper.
Step 3:
Dredge each chicken piece in the flour mixture, shaking off any excess.
Step 4:
Carefully lower the chicken pieces into the hot oil and fry for about 10-12 minutes or until golden brown and cooked through.
Step 5:
Remove the chicken from the oil with a slotted spoon and place on a wire rack or paper towels to drain off any excess oil.
Step 6:
Serve hot with your favorite sides and enjoy your delicious and crispy Broasted Chicken!