How to Make Moist Brownies with Cocoa powder - Easy recipe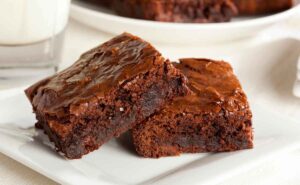 The Brownie Recipe is originally from American cuisine, it is a small dark brown biscuit from which its name "brownie". This recipe arose in 1896 when by mistake, an important North American pastry chef forgot to add yeast to a chocolate cake he was preparing. This is how this delicious compact cake was born. Next we will present a recipe for moist brownies with cocoa in an easy and fast way so that you surprise your guests.
Type: American
Cuisine: American
Keywords: Moist brownies
Preparation Time: 15M
Cooking Time: 30M
Total Time: 45M
Recipe Ingredients:
200 gr of Semisweet Dark Chocolate (broken into small pieces)
1/2 Cup of Butter (115 grams)
1 cup of white sugar
1/2 cup of brown sugar
3 eggs
1/4 tsp of salt
1 tsp of Vanilla Essence
1/2 Cup of Wheat Flour previously sifted
1/4 cup of cocoa powder previously sifted.
Recipe Instructions:
Step 1:
Grease a square pan with spray or nonstick paper.
Step 2:
Preheat the oven to 350 ℉ (180 ℃).
Step 3:
In a bowl in a bain-marie or with the help of a microwave, melt the butter and chocolate, mixing them until they are completely liquid.
Step 4:
In a separate bowl, place the white sugar, brown sugar and the three eggs and beat them until the mixture looks creamy.
Step 5:
Add the salt, the vanilla essence and the chocolate mixture with the melted butter and stir until just combined.
Step 6:
Add the previously sifted wheat flour and cocoa and with the help of a silicone spatula, stir until well mixed.
Step 7:
Pour the mixture into the greased pan and bake for 30 minutes.
Step 8:
Once baked, let it cool for 15 minutes. Then cut it up and serve.
More Easy Dessert Recipes