How to make Cheese, Potato and Bacon Soup - Easy Recipe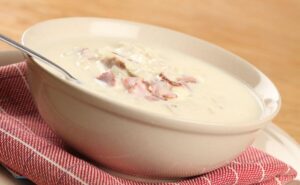 This delicious recipe can be served as a starter, its main ingredients are cheese, potato, and bacon. It is very easy to prepare and in many countries they are prepared differently. Next we will present you how is the preparation of a creamy cheese, potato and bacon soup, in a homemade, easy and fast way.
Type: Creamy soup
Keywords: Potato, Bacon, Bacon
Preparation Time: 30M
Recipe Ingredients:
3 Tbsp of Butter.
2 Tbsp Wheat Flour.
2 cups of milk
2 Cups of Chicken Broth.
2 Cups of potatoes chopped into small cubes.
250 gr of grated Mozzarella Cheese.
Salt and pepper to taste.
250 gr of cooked bacon (to decorate).
Recipe Instructions:
Step 1:
In a saucepan over low heat add the butter, the wheat flour and stir gently for 2 minutes until they are integrated.
Step 2:
Add the milk and raise the flame to medium heat, continue stirring for 2 minutes.
Step 3:
Add the chicken broth, potatoes and cover for 15 minutes until cooked.
Step 4:
Once the potatoes are cooked, turn off the heat and with the help of a hand processor, mash the potatoes until you get a creamy mixture.
Step 5:
Add the cheese and stir until melted and blended with the mixture.
Step 6:
Serve and add bacon for garnish.
More Easy Creamy Soup Recipes