How To Make Creamy Onion Soup - Easy and Quick Recipe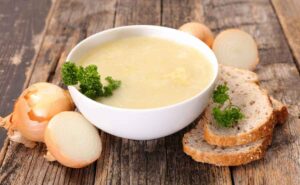 The onion cream recipe is very traditional in French gastronomy. It was formerly considered, at the time of the French Revolution, as a humble dish made with simple ingredients. Because its main ingredient is onion, it is a dish rich in vitamin C and minerals such as potassium, calcium and phosphorus. Below we will present the step-by-step preparation of the ideal homemade onion cream as a starter in your meals. Quick and easy.
Type: Creamy soup
Cuisine: French
Preparation Time: 40M
Recipe Ingredients:
5 large white onions.
2 tbsp oil.
40 gr of Butter.
2 to 3 tbsp all-purpose flour.
1 Lt of Chicken Broth.
500 ml of milk cream.
Salt.
Pepper
Parsley leaves to decorate.
Toasted bread to garnish.
Recipe Instructions:
Step 1:
Peel the onions and wash well.
Step 2:
Step 3:
In a saucepan add the oil and butter.
Step 4:
Sauté the onions over very low heat, until transparent, without letting them burn.
Step 5:
Then add the salt and pepper to taste.
Step 6:
Once the onion is transparent, add the flour and mix well.
Step 7:
Then add the broth and heavy cream and simmer until consistent.
Step 8:
Turn off the heat and let it rest.
Step 9:
Pass the contents through the blender and serve hot, decorating with parsley leaves and toast.
More Easy Creamy Soup Recipes