How to Make Lentil Soup with Chorizo - Easy Recipe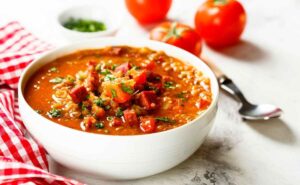 Lentils are a very popular grain around the world. The three largest producers of this food are Canada, India and Turkey. On the other hand, the largest producers are in Asia, North Africa, Western Europe and Latin America. This breath has a large amount of carbohydrates and vegetable protein. According to scientific data, fermented lentils in certain conditions have properties to combat high blood pressure. Next we will show you how to prepare the lentil soup with chorizo.
Type: Soup
Preparation Time: 45M
Recipe Ingredients:
200 g of Lentils previously washed.
100 g of onion finely chopped.
100 gr of Carrots in small cubes.
3 garlic cloves crushed.
100 gr of Red Paprika finely chopped.
1 pinch of oregano.
1 liter of chicken broth.
1 Pinch of Cumin.
1 tsp butter.
3 Chorizos cut into pieces.
Finely chopped cilantro.
Salt and pepper to taste.
Recipe Instructions:
Step 1:
In a saucepan over low heat, melt the butter and add the onion, garlic, carrot, and paprika and stir constantly for 5 minutes.
Step 2:
Add the previously washed lentils, the pinch of oregano, the cumin, the pepper, the salt to taste and stir for 3 minutes over low heat.
Step 3:
In a separate pan, sauté the chorizos and let them brown on both sides, then add them to the stew with the lentils and continue stirring for 2 minutes.
Step 4:
Add the chicken broth and stir for 1 minute.
Step 5:
Add the finely chopped cilantro and cover, letting it cook for approximately 30 minutes over low heat or until the lentils are well cooked.
Step 6:
Serve and decorate to your liking.
More Easy Creamy Soup Recipes