How to make Creamy Corn Soup - Homemade and Easy Recipe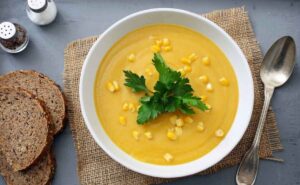 This delicious recipe can be served as a starter. Its main ingredient corn, is a food native to indigenous peoples and was introduced to Europe in the seventeenth century. Today this food is the cereal with the highest volume of world production, surpassing wheat and rice. Next we will present you a delicious recipe for homemade corn cream in an easy and fast way.
Type: Creamy soup
Preparation Time: 30M
Recipe Ingredients:
1 Can of Corn (500 gr approx).
1 liter of broth.
1 cup heavy cream.
½ Liter of Milk.
1 clove garlic.
¼ Cup of chopped onion.
1/3 of Cup of Wheat Flour.
½ Cup of Butter.
Salt and pepper to taste.
Recipe Instructions:
Step 1:
In a saucepan over medium low heat, place the butter and sauté the onion and garlic until golden brown.
Step 2:
Add the wheat flour and stir for 2 minutes.
Step 3:
Add the broth little by little and stir constantly without leaving any lumps.
Step 4:
Add salt and pepper to taste.
Step 5:
In a blender, pour the liter of milk, add the corn and blend until well integrated.
Step 6:
Add the contents of the blender to the broth and cook for approximately 10 minutes.
Step 7:
Turn off the heat and add the heavy cream, stirring until just combined.
Step 8:
More Easy Creamy Soup Recipes