How to Make Creamy Asparagus Soup with Potatoes - Easy Recipe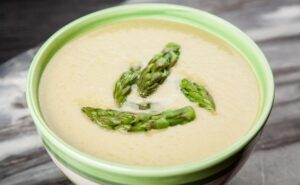 You can serve this delicious recipe as a starter, its main ingredient is asparagus. It is a herbaceous perennial plant with highly branched foliage and feathery appearance. Its cultivation lasts a long time in the soil, on the order of eight to ten years. It has been used since ancient times as a culinary vegetable, due to its delicate flavor and its diuretic properties. Next we will present you the preparation of a homemade cream of asparagus with potato in an easy and fast way.
Type: Creamy soup
Keywords: Asparagus Cream with Potato, Healthy, Vegan
Preparation Time: 30M
Recipe Ingredients:
250 gr of Asparagus cut into pieces.
2 Tbsp of Extra Virgin Olive Oil.
1/2 finely chopped onion.
100 gr of finely chopped Leek.
330 gr of Potato diced.
700 ml chicken or vegetable broth.
Salt and pepper to taste.
Note: You can use vegetable broth for a vegan recipe.
Recipe Instructions:
Step 1:
In a pot over medium heat add the oil, once hot add the onion, leek and fry until golden brown.
Step 2:
Then add the asparagus, potato, salt, and pepper to taste, and stir for two minutes.
Step 3:
Add the broth and cover the pot, cook for 20 minutes.
Step 4:
Once ready, wait for it to cool a bit.
Step 5:
Pour the contents of the pot into a blender and blend until you get a creamy mixture.
Step 6:
Serve and decorate to your liking.
More Easy Creamy Soup Recipes