How to Make Creamy Leek and Potato Soup - Easy Recipe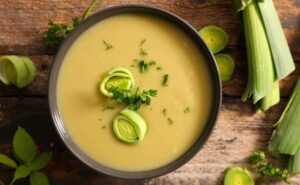 Leek cream is originally from French cuisine, also known as "Vichyssoise". The creation of this recipe is attributed to the French chef Louis Diat, who worked in the kitchen of the luxurious Hotel "The Ritz-Carlton" in New York during the First World War, who recalled the steps of its invention for a newspaper publication The New Yorker in 1950. Louis Diat tells that in 1917 he was reflecting on a soup of leeks and potatoes that his mother and grandmother used to make in their childhood, hence the idea of ​​this delicious recipe arose. Next we will present you the homemade leek cream easily and quickly.
Type: Creamy soup
Cuisine: French
Preparation Time: 40M
Recipe Ingredients:
2 Leeks, chopped into small pieces.
1 Potato chopped into small squares.
1 small onion finely chopped.
1 Garlic minced.
2 tablespoons butter.
½ Cup of Milk.
2 Cups of Chicken Broth.
Salt and pepper to taste.
Recipe Instructions:
Step 1:
In a saucepan over medium heat add the butter and fry the leek for 3 minutes.
Step 2:
Add the potato, garlic and chopped onion and continue to fry for 3 minutes.
Step 3:
Add the two cups of chicken broth, salt, and pepper to taste and then cover the pot, letting it cook for 20 minutes.
Step 4:
Once cooked, let it rest a bit.
Step 5:
Place everything in a blender and blend until creamy.
Step 6:
Add the milk and continue blending until everything is integrated.
Step 7:
Serve and decorate to your liking.
More Easy Creamy Soup Recipes