How to Make Carrot Cream Soup - Homemade and Easy Recipe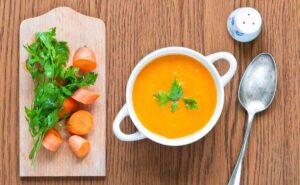 This delicious recipe can be served as a starter. Its main ingredient, carrot, is native to Europe and Southwest Asia. It is a very nutritious food in vitamin A, B, B3, E, potassium, phosphorus, magnesium, iodine and calcium. Carrots also help produce melanin, which is the pigment that gives skin its color and protects from harmful solar radiation. Next we will present you how to prepare a delicious recipe for homemade carrot cream easily and quickly.
Type: Creamy soup
Preparation Time: 30M
Recipe Ingredients:
500 gr of chopped carrots.
250 gr of chopped potatoes.
½ Chopped White Onion.
1 chopped leek.
900 ml of Broth.
4 Tbsp Oil.
Salt and pepper to taste.
Recipe Instructions:
Step 1:
In a saucepan over medium high heat, add the oil and sauté the onion and leek until golden brown.
Step 2:
Add the carrot and potato and stir frequently for about 5 minutes.
Step 3:
Add the broth, salt, and pepper to taste and cook for about 20 minutes until the vegetables are well cooked.
Step 4:
Once everything is cooked, pour it into a blender and blend until you get a creamy mixture.
Step 5:
Serve hot and decorate to your liking.
More Easy Creamy Soup Recipes