How to Make Vegetable Cream Soup - Homemade and Easy Recipe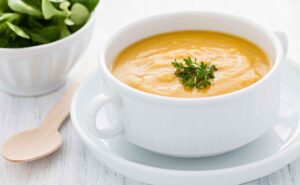 This recipe is composed of vegetables, which are low-calorie foods, rich in water, fiber, vitamins, and minerals. Vegetables are a group of foods that, together with fruits, act as natural antioxidants; They have two important characteristics: fiber, which provides nutritional benefits, and water. Their energy value is low, they have an important mineral and vitamin content, which makes them stand out as fundamental components of the daily diet for the proper functioning of our body. Next, we present you the preparation of the homemade vegetable cream, which is a delicious and easy to prepare starter.
Type: Creamy Soup
Preparation Time: 30M
Recipe Ingredients:
100 gr of Pumpkin.
100 gr of Carrot.
100 gr of potato.
100 gr of Zucchini (Italian Zucchini).
100 gr of shelled corn (canned).
1 medium onion.
1 stalk of celery.
1 chives.
2 cloves of garlic.
750 ml of Broth (vegetable or chicken).
Coriander
Salt.
Pepper.
Recipe Instructions:
Step 1:
Peel and wash the vegetables well, and cut them all into small cubes.
Step 2:
In a pot, sauté the onion and garlic cloves without letting them burn.
Step 3:
Add the rest of the vegetables and fry them for about 5 minutes.
Step 4:
Add salt, pepper and the coriander sprig to taste.
Step 5:
Add the broth and cook the vegetables until they soften.
Step 6:
Once all the ingredients are cooked you must blend them until they are well mixed, serve hot and decorate to your liking.
More Easy Creamy Soup Recipes