Chicken with Alfredo sauce and Broccoli - Easy Recipe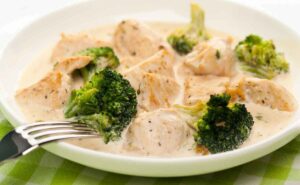 Alfredo sauce is originally from Italy, invented by Alfredo di Lelio in 1914 who had a restaurant in Rome named after him. This sauce from the beginning was made to dress pasta and its original recipe only contained Parmesan cheese and butter. Today some cooks often add heavy cream, vegetables, chicken or seafood to it. Next we will present to you how to prepare chicken alfredo with Broccoli in an easy and fast way.
Type: Main Dish
Cuisine: Italian
Preparation Time: 30M
Recipe Ingredients:
4 Chicken Breasts in pieces.
250 gr of Broccoli, chopped into pieces.
1 tsp of grated Parmesan Cheese.
3 tsp grated Mozzarella Cheese.
2/3 cup skim milk.
½ cup heavy cream.
2 tsp butter.
Salt and pepper.
Recipe Instructions:
Step 1:
In a saucepan over medium heat, boil the broccoli in hot water until cooked.
Step 2:
Apart in a pan over high heat, melt the butter and place the chicken pieces until they are well sealed.
Step 3:
Remove the chicken and place it on a separate plate.
Step 4:
In the same skillet over medium heat, pour the milk, the Parmesan, the mozzarella, the heavy cream and stir 3 minutes until they are integrated.
Step 5:
Add salt and pepper to taste.
Step 6:
Add the chicken to the pan again and add the broccoli, stir and cover, letting cook for 10 minutes.
Step 7:
More Easy Chicken Recipes