How to Make Chicken Breasts with Mustard Sauce - Easy Recipe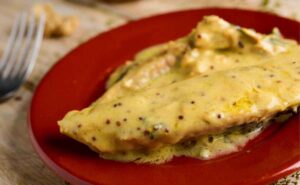 This mustard chicken breasts recipe contains two very special ingredients to give it a unique and delicious flavor, these are dijon mustard and old-fashioned mustard. The first is of French origin and is made with brown mustard seeds. The second is not only good for gastronomic purposes but also for medicinal and nutritional purposes. Next we will present you step by step the preparation of chicken breasts with mustard in an easy and fast way.
Type: Main Dish
Cuisine: French
Preparation Time: 30M
Recipe Ingredients:
4 Breasts cut into fillet and seasoned with salt and pepper.
1 tablespoon butter.
½ Onion finely chopped.
2 garlic cloves finely crushed.
½ tsp of rosemary.
½ Cup of chicken broth.
1 ½ of Milk Cream.
2 Tbsp Dijon Mustard.
1 Tbsp Old Mustard.
Salt and pepper.
Recipe Instructions:
Step 1:
In a skillet over medium heat melt the butter and fry the onion and garlic.
Step 2:
Add the rosemary and stir.
Step 3:
Turn up the power to high heat and place the breasts until they are well sealed on both sides.
Step 4:
Lower the power back to medium heat and add the chicken broth, heavy cream, dijon mustard, old mustard and stir until just combined.
Step 5:
Add salt and pepper to taste. Then cover the pan and cook for 20 minutes over low heat.
Step 6:
More Easy Chicken Recipes