Chicken Curry Recipe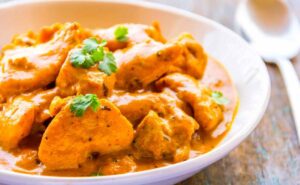 The chicken curry recipe is native to the cuisine of South Asia, particularly India. It is known throughout the world, because it was spread by the United Kingdom, when India belonged to the English empire. One of its main ingredients is curry, this is a condiment that is made from spices such as cumin, ginger powder, coriander seeds, cinnamon, turmeric, nutmeg, mustard grains and pepper. Next we will present you the preparation of the chicken curry recipe easily and quickly.
Type: Main Dish
Cuisine: India
Preparation Time: 20M
Recipe Ingredients:
2 Chicken Breasts cut into pieces, seasoned with salt and pepper.
1 medium onion finely chopped.
2 garlic cloves finely chopped.
2 tablespoons tomato paste.
1 Tbsp Curry.
200 ml of Milk Cream.
Salt and pepper to taste.
Parsley or coriander to garnish.
Oil.
Recipe Instructions:
Step 1:
In a skillet over medium heat, add a drizzle of oil and add the onion and garlic.
Step 2:
Add salt and pepper to taste and stir for 5 minutes while it cooks.
Step 3:
Add the tomato paste and curry and keep stirring for 2 minutes.
Step 4:
Increase the power to high heat and add the chicken cut into pieces, stirring for 3 minutes so that it is well integrated and sealed.
Step 5:
Return the power to low heat and add the milk cream. Stir and reduce the mixture for 5 minutes.
Step 6:
Serve and garnish with cilantro or parsley.
More Easy Chicken Recipes