How to make Coconut Flan with Condensed Milk - Easy Recipe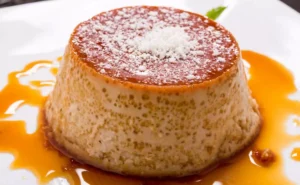 Looking for a delicious and creamy dessert that will transport you to a tropical paradise? Look no further than this coconut flan recipe! Made with rich coconut milk and topped with a caramelized sugar glaze, this dessert is the perfect combination of sweet and nutty flavors. Whether you're hosting a dinner party or just looking for a special treat, this coconut flan is sure to impress. So grab your apron and get ready to indulge in a taste of the tropics!
Type: Dessert
Cuisine: Portuguese
Cooking Time: PT50-60M
Recipe Ingredients:
1 can (14 oz) sweetened condensed milk
1 can (13.5 oz) coconut milk
1/2 cup granulated sugar
4 large eggs
1 teaspoon vanilla extract
1/4 teaspoon salt
For the caramel: 1/2 cup granulated sugar, 1/4 cup water, 1 tablespoon fresh lime juice
Recipe Instructions:
Step 1:
Preheat the oven to 350°F (175°C).
Step 2:
For the caramel, combine the sugar, water, and lime juice in a small saucepan. Cook over medium heat until the sugar is dissolved, stirring occasionally. Once dissolved, stop stirring and cook until the mixture turns amber in color, about 8-10 minutes.
Step 3:
Quickly pour the caramel into an 8-inch (20cm) round cake pan and swirl it around to coat the bottom evenly. Set aside.
Step 4:
In a large mixing bowl, whisk together the sweetened condensed milk, coconut milk, eggs, vanilla extract, and salt until smooth.
Step 5:
Pour the mixture into the prepared cake pan over the caramel.
Step 6:
Place the cake pan in a larger baking dish or roasting pan and pour enough hot water into the larger dish to come halfway up the sides of the cake pan.
Step 7:
Carefully transfer the baking dish to the oven and bake for 50-60 minutes, or until the flan is set and a toothpick or knife inserted in the center comes out clean.
Step 8:
Remove the cake pan from the water bath and let it cool to room temperature. Then, cover and refrigerate for at least 2 hours or overnight.
Step 9:
To serve, run a knife around the edges of the cake pan to loosen the flan. Invert the pan onto a large serving plate and carefully lift off the cake pan. The caramel should drip down the sides of the flan.
Step 10:
Cut the flan into wedges and serve chilled. Enjoy!