How to make Cream Cheese Brownies - Easy Recipe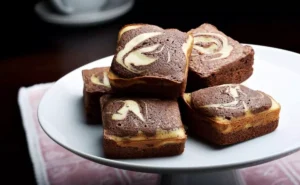 Indulge in the ultimate dessert experience with our delectable Marbled Cream Cheese Brownies. This irresistible treat combines the rich and fudgy goodness of chocolate brownies with the creamy tanginess of cream cheese swirls, creating a heavenly combination that will satisfy your sweet tooth. With just a few simple steps, you can create a visually stunning marbled effect that adds a touch of elegance to these delightful brownies. Perfect for parties, special occasions, or simply as a well-deserved treat, these Marbled Cream Cheese Brownies are guaranteed to impress and leave everyone wanting more. Get ready to experience a symphony of flavors and textures in every bite of these indulgent and decadent brownies.
Type: Dessert
Cooking Time: PT25-30M
Recipe Ingredients:
1/2 cup unsalted butter
1 cup granulated sugar
2 large eggs
1 teaspoon vanilla extract
1/3 cup all-purpose flour
1/4 teaspoon salt
1/4 cup cocoa powder
4 ounces cream cheese, softened
1/4 cup powdered sugar
Recipe Instructions:
Step 1:
Preheat your oven to 350°F (175°C). Grease or line a square baking pan with parchment paper.
Step 2:
In a microwave-safe bowl, melt the butter. Stir in the granulated sugar until well combined.
Step 3:
Beat in the eggs, one at a time, followed by the vanilla extract.
Step 4:
Gradually add the flour and salt, stirring until just combined. Be careful not to overmix.
Step 5:
Transfer half of the batter to a separate bowl. Sift in the cocoa powder and mix until well combined.
Step 6:
In another bowl, mix the softened cream cheese and powdered sugar until smooth and creamy.
Step 7:
Pour the plain batter into the prepared baking pan, spreading it evenly.
Step 8:
Drop spoonfuls of the cocoa batter and the cream cheese mixture randomly over the plain batter.
Step 9:
Use a knife or toothpick to gently swirl the batters together, creating a marbled effect.
Step 10:
Bake the brownies in the preheated oven for 25-30 minutes, or until a toothpick inserted into the center comes out with a few moist crumbs.
Step 11:
Remove the brownies from the oven and let them cool completely in the pan before cutting into squares.
Step 12:
Serve and enjoy these delectable marbled cream cheese brownies as a delightful treat!